Huntington Beach Pool Builder and Landscape Design Company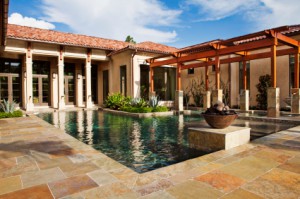 Chances are if you live in Huntington Beach it is partially because of the amazing climate. With the beautiful weather California has to offer, custom designed outdoor living areas are an essential element to local homes. There are three main aspects of the perfect yard; swimming pool, landscape design, and outdoor living spaces. Careful design of all three of these aspects allows for seamless transitioning from the beauty of your home to the beauty of your yard. No one is better equipped to provide that transition for your Huntington Beach home than Izzy Living Builders.
For over two decades Izzy Living Builders has provided Huntington Beach home owners with custom swimming pools, stunning landscapes, decadent outdoor living areas, stone-workings, waterfalls, fountains, spa installation, outdoor kitchens and more. Your yard will do more than just look the best it ever has, it will be your favorite place in your whole house. Let Izzy Living Builders make your vision of the perfect home a reality. We are Huntington Beach's number one pool builder and landscape design contractor.
Huntington Beach Swimming Pool Construction
No yard is complete without a custom swimming pool. A swimming pool offers the best kind of recreation, relaxation and fun, not to mention the cool water is soothing in the hot sun. Beyond the obvious benefits of a swimming pool, having a customized pool constructed gives you the opportunity to allow your pool to reflect the character of your home environment and your personality. Whether you are after a sleek modern look, with crisp edges, hard lines and a metal waterfall, or you would prefer the classic style of marble tile and a statue fountain, our designers and builders can recreate exactly your envisioned pool. No, they aren't mind readers, they are just experienced. For over 20 years our specialty has been swimming pool construction, so we pride ourselves on being Huntington Beach's pool experts.
Your custom constructed swimming pool can have all manner of fountains, waterfalls, colored lights, kiddie ponds, and even a spa. Our technicians have expertise in all disciplines involved in swimming pool construction, from masonry to lighting. Your swimming pool construction project is in good hands with Izzy Living Builders.
Huntington Beach Landscape Design
In order to properly accentuate the beauty of your home and outdoor spaces you will need professional landscape design. Izzy Living Builders landscape design experts are highly trained in creating the perfect landscape that will underscore the aesthetic qualities of your home and yard while also transforming your outdoor space into a tranquil natural sanctuary. Whatever your vision, we can accommodate. Be it the cool shade of palm fronds, the rustic look of stone pathways, the color of exotic flowers, the peacefulness of a rock garden or the serenity of a pond. Our landscape designers bend nature to your will. We also offer beautiful and functional landscape lighting. The lighting not only creates an ambiance that highlights the beauty of your yard but also provides the security of having a well lit property. Your family and guests will enjoy a beautiful landscape for years to come with an Izzy Living Builders designed landscape.
Huntington Beach Outdoor Living
Huntington Beach offers a level of outdoor living many places around the country could only dream of. The beautiful California sun makes having an outdoor living space a must in a Huntington Beach home. Let Izzy Living Builders make you as comfortable as possible in your outdoor space. We have been designing outdoor areas since 1992 and we have technicians that specialize in almost every field related to outdoor design. We are fully committed to extending all of the comforts and amenities of your home inside to your yard outside.
Imagine a covered patio complete with couches, a coffee table and flat screen mounted on a wall. Or how about a functional kitchen with a sink, cabinets, refrigerator, all in arms reach of the grill? Maybe you'd like a more intimate setting with a circular table and chair set up positioned next to an outdoor fireplace. Whatever you envision we can make it a reality. We can even give your outdoor space a theme. Would you like a zen garden with a custom shaped rock you can sit on and meditate? Or maybe you would like a modern look with flat rock beds and babbling fountains running off into a sleek metal reservoir. We could even put a love seat right in the middle of some trees. Your patio and yard will never be the same after Izzy Living Builders transforms it into your favorite part of your home.
Services We Provide in Huntington Beach
Zip Codes We Service in Huntington Beach
92646 | 92647 | 92648 | 92649
Reviews & Testimonials on Izzy Living Builders in Huntington Beach, California
There are currently no reviews or testimonials for Huntington Beach, California. Check back soon!
Articles & Tips
While there is no doubt that the spring and summer months are the prime time for putting on some sunscreen and taking a dip in the pool, there is a little bit more uncertainty among homeowners when i […]
Read More
While LED lighting has generally been a more common feature inside of homes, many homeowners all over the country are quickly coming to find out just how beneficial it can be to use around your home' […]
Read More