Professional Landscape Lighting for Orange County Homes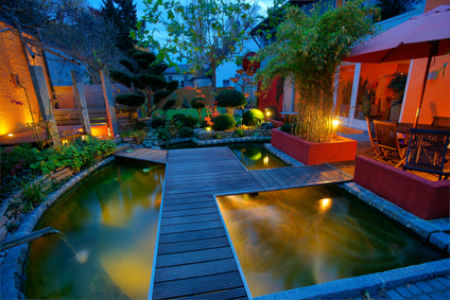 As a homeowner, we understand you take pride in your beautifully designed landscape. It would be a shame to deny the world a chance to see it just because the sun goes down. That is why Izzy Living Builders is your source for Orange County landscape lighting contractors. We have over two decades of experience servicing OC homeowners and helping them to make their properties a stunning representation of themselves.
Our professional landscape lighting contractors can add just the right accentuation from the perfect level of lighting to create an unforgettable ambiance in your outdoor space. There is no better way to create an atmosphere of elegance and wonder than with Izzy Living Builders' landscape lighting. We can install underground fixtures to light up your lawn or pathways, or spotlight some of your beautiful backyard trees. Perhaps you'd like some shadow lighting placed on custom rock formations? Whatever your needs, custom landscape lighting provides the perfect marriage between utility and aesthetics. Call Izzy Living Builders, we are the Orange County landscape lighting experts.
Landscape lighting isn't just for seeing and appreciating your beautiful landscape either. It is also a security element. Research shows that well lit properties are less likely to fall victim to criminal activity. Just installing flood lighting won't do the trick, however, as an unshielded light could prove too bright and reduce visibility. This would act counter your intent. That is why it is important to have a seasoned professional install your landscape lighting. At Izzy Living Builders, we know just the right amount of lighting to provide the security your home needs while also accentuating the beauty of your landscape. Treat yourself to safety and elegance with some landscape lighting from Izzy Living Builders.
Our Orange County Landscape Lighting Professionals Provide the Following Services
Low Voltage Lighting
LED Landscaping Lights
Deck Lighting
Custom Exterior Lighting
Orange County Landscape Lighting
Articles & Tips
While there is no doubt that the spring and summer months are the prime time for putting on some sunscreen and taking a dip in the pool, there is a little bit more uncertainty among homeowners when i […]
Read More
While LED lighting has generally been a more common feature inside of homes, many homeowners all over the country are quickly coming to find out just how beneficial it can be to use around your home' […]
Read More