Professional Orange County Spa Installation Contractors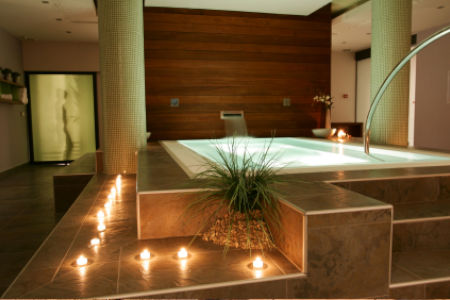 No outdoor space is complete without the calming tranquility of a spa. Whether you worked hard all day or had a perfectly relaxing, lazy day, there is no better way to end it than with a spa soaking. If you are looking to complete the look and feel of a luxurious outdoor space, call Izzy Living Builders and have our professional Orange County spa installation experts install your own personal spa. We have over two decades of experience perfecting the dream outdoor spaces of Orange County homeowners. No one understands that your vision of the perfect home doesn't stop indoors better than us. Outdoor living spaces is our business, and making you fall in love with your yard is our focus.
Aside from adding a refined and opulent look to your home or outdoors, owning a spa has a number of other benefits:
Heat absorption from a spa causes blood flow to increase, which is good for the body. Blood vessels dilate in heat which causes blood pressure to drop. The heat gets carried deep into the muscles causing extreme relaxation. And, due to the brain focusing on the body's heat gain, the central nervous system is muted, causing pain relief.
Heat isn't the only aspect of a spa that provides benefits. The buoyancy of the water supports 90% of a person's body weight. This takes a tremendous amount of pressure off of joints. The jets offer a therapeutic massage as well. Spas have also been shown to help you transition into a deeper sleep when you go to bed directly after soaking. Medical research has uncovered that regularly enjoying a spa helps treat aspects of diabetes and arthritis. Also, due to muscle stimulation from the jets, gradual weight loss can be a benefit.
As you can see, there are innumerable reasons to own your own spa. There are also a number of amenities available for customization with your spa. If you plan to entertain, you can add cup holders, a stereo system or even a pop-up tv screen. Your spa can have colored LED lights for a festive look and you will really enjoy an mp3 player dock so that you can drift off into your music while relaxing. Our Orange County spa installation contractors can install your spa wherever you please too. You can have it installed on your deck next to your pool, or if you intend to use your spa for more personal or romantic purposes, it can be installed in your home. At Izzy Living Builders, we can accommodate whatever best suits the needs of you and your family.
Our Orange County Spa Installation Contractors Provide the Following Services
In-Ground Spa Installation
Outdoor Hot Tubs
Hot Tub Enclosures
Luxury Spas
Orange County Spas
Articles & Tips
While there is no doubt that the spring and summer months are the prime time for putting on some sunscreen and taking a dip in the pool, there is a little bit more uncertainty among homeowners when i […]
Read More
While LED lighting has generally been a more common feature inside of homes, many homeowners all over the country are quickly coming to find out just how beneficial it can be to use around your home' […]
Read More