Laguna Beach Pool Builder and Landscape Design Company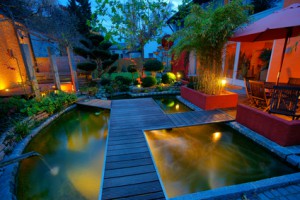 Part of the prestige of living in a Laguna Beach home is the way they utilize outdoor spaces to extend the home environment into the gorgeous California climate. If you are in need of a custom outdoor space, which includes landscape design and swimming pool construction, Izzy Living Builders are the outdoor living specialists you can count on. We have been servicing the Laguna Beach area since 1992 and we work hard to provide superior craftsmanship and unparalleled customer service. Our designers work very closely with you so that the design is as detailed as possible, matching to a T your vision of your outdoor space. Your dream home extends into your front and back yard, so don't entrust these extensions of your perfect home to just anyone. Call on professionals who can get the job done right. We strive to offer some of the most rapid construction times to minimize inconvenience. That is why we put so much effort into consultation. We also use the highest quality materials so that expensive repairs and maintenance are not hassles you need to worry about. We are Laguna Beach's premier choice for pool installer and landscape design company.
Laguna Beach Swimming Pool Construction
The first, and probably biggest element of the perfect outdoor living space is a swimming pool. A custom constructed swimming pool is a natural part of a Laguna Beach home. It provides the much needed retreat from a harsh sun on a hot summer day, while also allowing one to enjoy the beauty of the outdoors. A pool is the perfect staging area for great entertainment, healthy recreation for the kids, or even relaxation and romance. When you call on professional swimming pool construction contractors your pool needs are fully customized. At Izzy Living Builders we've been pool installation experts for two decades, so we have technicians that specialize in creating custom pool experiences. You can have any one of the geometric pools or a custom designed free-form pool. Whatever best suits your needs and fits your personality, we are here to accommodate.
We also offer pool amenities. We can build for you a pool waterfall that provides the soothing sound of "natures music" while also upgrading the aesthetics of your pool. We can also install lights for the function of night time swimming and the beauty of accent lighting on your custom pool. How about fountains? We can do that too. From bronze statue fountains to custom shaped stone fountains, wall fountains and more, Izzy Living Builders are up to the task. Would you like a spa or kiddie pond attached to your pool? We can do both. Whatever the design, for whomever to enjoy, no one does it better than Izzy Living Builders.
Laguna Beach Landscape Design
The next biggest element to your beautifully customized outdoor space is the landscape. Your landscape design shapes the aesthetics of your entire outdoor area as well as sets the tone for the home itself. Stunning landscape design is a must for a gorgeous Laguna Beach home. Creating a seamless integration of nature and modern architecture is the focus of any good landscape design. With the professionals at Izzy Living Builders, your landscape will look the best it has ever looked.
A multi-tiered stair-step waterfall running directly beside your outdoor dining area could create the perfect atmosphere for entertaining. For something more intimate our designers could also implement a stone pathway that leads down rows of exotic and colorful flowers. To give the kids a beautiful place to sit and read in the sun, we suggest a sunflower hut. Or if you want a serene place to escape by yourself a rock garden and pond might do the trick. The possibilities are endless with competent and professional landscape designers and we are Laguna Beach's best.
Laguna Beach Outdoor Living
For Laguna Beach homes, it all comes down to outdoor living spaces. No dream home is complete without being able to extend the comforts and amenities of inside to the outside. At Izzy Living Builders, we are the outdoor living spaces specialists. For over 20 years we have been transforming Laguna Beach outdoor spaces into relaxing oases, entertainment hotspots and family retreats. Our designers can take whatever you imagine as the perfect yard and make it real. If you are running short of ideas, bring us a blank slate, we can work with that too.
Who could deny that a backyard barbeque would be made better (and easier) with a fully functional outdoor kitchen? Wouldn't the game be much better right next to the grill? It can be if you have couches and chairs and a flat screen on your patio. How about family time by the fire? In the back yard? We can build you a fire pit or an entire fireplace. No matter what your outdoor space design needs, Izzy Living Builders can make them a reality.
Services We Provide in Laguna Beach
Zip Codes We Service in Laguna Beach
92651
Reviews & Testimonials on Izzy Living Builders in Laguna Beach, California
There are currently no reviews or testimonials for Laguna Beach, California. Check back soon!
Articles & Tips
While there is no doubt that the spring and summer months are the prime time for putting on some sunscreen and taking a dip in the pool, there is a little bit more uncertainty among homeowners when i […]
Read More
While LED lighting has generally been a more common feature inside of homes, many homeowners all over the country are quickly coming to find out just how beneficial it can be to use around your home' […]
Read More