Lake Forest Pool Builder and Landscape Design Company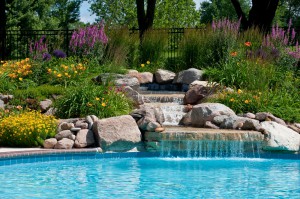 Given the propensity for relatively hot weather in Lake Forest, it is pretty standard to have outdoor design elements like swimming pools and custom landscapes in most homes. As a member of the community since 1992 Izzy Living Builders has helped to make that a reality. With over 20 years experience servicing Lake Forest home owners, we are the outdoor design experts. We've transformed many Lake Forest yards into stunning landscapes that immediately cause a calming and mood lightening effect on all who see it. Give us a call and escape the summer sun into the cool waters of a custom pool surrounded by exotic foliage in your custom designed outdoor living space. Let us complete your dream home for you by adding the custom outdoor design it deserves. Izzy Living Builders are the premier choice for Lake Forest pool installer and landscape design company contractor.
Lake Forest Swimming Pool Construction
No Lake Forest home is complete without a swimming pool. It is almost essential for any home that bathes in a California sun. But don't settle for just a pool installation. A professional swimming pool construction contractor can design a pool that fits the character of your backyard, utilizing materials and elements that reflect your personality. That way your swimming pool is custom designed to meet the needs of you and your family.
Our designers strive to create a mirror image of your vision of the perfect pool. With attention to detail, we will build a swimming pool you are sure to fall in love with. And we are serious about getting every minutia exact, right down to matching skimmer nets and seamless drain covers. Your perfect swimming pool is in good hands with Izzy Living Builders.
Our pool construction materials are of the finest quality. We want to make sure our clients don't have to worry about expensive repairs and maintenance, so we use durable building supplies. We also pride ourselves in quick and efficient work. We take extra care in the consultation and design planning stages so that time in construction is minimized. That way there is less inconvenience to you and you can get to enjoying your custom swimming pool.
Lake Forest Landscape Design
Effort, time and resources go into making Lake Forest homes spectacular, and we know your home is no exception. A natural extension of your beautiful interior design is a gorgeous landscape. Every extraordinary outdoor space must have a well designed landscape integrated with it. That is why we at Izzy Living Builders employ landscape design specialists with the training and expertise to mold a breath-taking landscape.
After two decades in the Lake Forest community we understand the natural elements present. With that intimate knowledge we are able to create landscapes that shift seamlessly from gorgeous landscape to gorgeous home. This makes your landscape an extension of your home and likewise adds awe and curb appeal to your home's list of assets. Aside from the aesthetics, a custom designed landscape turns your yard into a personal reflection of you.
If you've ever wished you could escape into the beauty of nature, we can make it happen. Want a tranquil water garden in your back yard? How about custom rock formations? Would you like to liven things up with exotic flowers that add both color and fragrance to your yard? Izzy Living Builders are the landscape design experts you can count on.
Lake Forest Outdoor Living
Why spend time and effort creating a beautiful landscape and backyard oasis without any space to sit and enjoy it all? That is why Izzy Living Builders offers outdoor living space design, so you can have all the comfort and amenities of the inside of your house extended into the outside. Our genius design team can create for you the most relaxing and inviting outdoor spaces, you won't even want to go inside. Want a living room on your patio? We can install the custom flooring and have couches, chairs, end tables and a flat screen mounted on the wall; perfect for watching the game and barbequing. Speaking of barbeque, you won't have to run in and out of the house with a fully functional outdoor kitchen, complete with sink, fridge, cabinet space, a grill and even a bar. Whatever your indoor needs, Izzy Living Builders can make it happen outdoors.
Services We Provide in Lake Forest
Zip Codes We Service in Lake Forest
92630
Reviews & Testimonials on Izzy Living Builders in Lake Forest, California
There are currently no reviews or testimonials for Lake Forest, California. Check back soon!
Articles & Tips
While there is no doubt that the spring and summer months are the prime time for putting on some sunscreen and taking a dip in the pool, there is a little bit more uncertainty among homeowners when i […]
Read More
While LED lighting has generally been a more common feature inside of homes, many homeowners all over the country are quickly coming to find out just how beneficial it can be to use around your home' […]
Read More