Las Flores Pool Builder and Landscape Design Company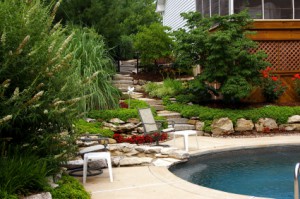 Izzy Living Builders has been the go-to people in Las Flores for quality pool installer and landscape design company for over 20 years. Outdoor living is a part of everyday life in California and that is why our technicians are highly trained and certified experts in their fields. Izzy Living Builders employs specialists from a variety of disciplines so that we can offer the most custom job possible. Our outdoor designs give you total control over the look and atmosphere of your pool, landscape and living areas. You can even transform the character of your entire home environment with a custom designed outdoor space. Make your Las Flores home the most beautiful on the block. Call Izzy Living Builders.
Las Flores Swimming Pool Construction
The first major element of a custom outdoor design in Las Flores is definitely a swimming pool. With the hot summer days in California, there is no better way to cool down than with the soothing waters of your own custom built pool. At Izzy Living Builders we offer you tons of options to make your swimming pool the image of perfection. You can choose from a geometric pool or work with our designers to customize your own free-form shape. You can add a spa, or a kiddie pond for the children, or even both. You can add ambiance with waterfalls or custom rock formations, or go with a more entertainment centered theme and include lighting. Whatever best suits the needs of you and your family, we can accommodate.
At Izzy Living Builders we also take pride in getting the job done quickly. We want to minimize the inconvenience of construction time and get you enjoying your new swimming pool. That is why our designers take extra special care in consultation and planning to focus on all of the details. We also use the highest quality materials so they are durable. There's no worrying about expensive repairs and maintenance any time soon with Izzy Living Builders.
Las Flores Landscape Design
Often times the bulk of funds and energy goes into the design of the house, and the outdoor areas can be neglected. The only way to extend the beauty of your home design to encompass your whole property is with professional landscape design. At Izzy Living Builders, our landscape design specialists will create a seamless integration between the beauty of your home and your outdoor spaces. That way your entire property has a uniform character that reflects your personality.
Our Izzy Living Builders landscaping experts handle all elements of great landscape design. From incorporating colorful and exotic foliage, custom shaping rock formations and laying stone pathways, to creating ambiance with carefully planned low-voltage lighting. Our designers will literally shape nature around your desired vision of your home. So whether you want to come home to a serene, naturalistic pathway leading to a water garden, or you'd prefer the modern, sophisticated look of a pristine entertainment area that incorporates colorful, exotic flowers, Izzy Living Builders can make it happen.
Las Flores Outdoor Living
Izzy Living Builders are the outdoor living space design experts. Your Las Flores home will never look better than it does after we design your outdoor living spaces. Our focus is to create a design that matches the image of your dream home. Our goal is to create a space you fall in love with; you'll never want to go back inside.
We employ technicians that specialize in a variety of disciplines. From masonry to electrical work, all aspects of your design are fully customizable. Even if you can't envision it, our designers will provide you with a number of different options until you are head over heels for your new outdoor space.
Do you love the naturalistic look? Imagine an intimate corner of your landscape with a loveseat nestled in between a fireplace and a coy pond. Do you have a flare for Asian influence? How about a tranquil deck featuring a rock garden under a waterfall? Like to entertain? How about a barbeque deck complete with a full working outdoor kitchen? Whatever your needs, Izzy Living Builders are the outdoor living space design professionals you can count on.
Services We Provide in Las Flores
Zip Codes We Service in Las Flores
92688
Reviews & Testimonials on Izzy Living Builders in Las Flores, California
There are currently no reviews or testimonials for Las Flores, California. Check back soon!
Articles & Tips
While there is no doubt that the spring and summer months are the prime time for putting on some sunscreen and taking a dip in the pool, there is a little bit more uncertainty among homeowners when i […]
Read More
While LED lighting has generally been a more common feature inside of homes, many homeowners all over the country are quickly coming to find out just how beneficial it can be to use around your home' […]
Read More