Custom Waterfalls & Fountains for Your Orange County Home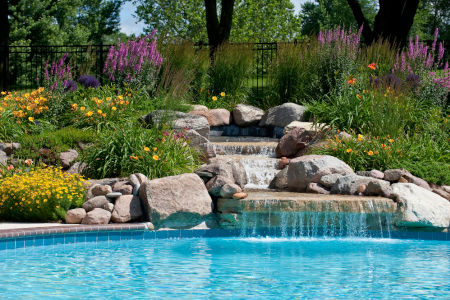 The true symbol of opulence and elegance in an outdoor space is the serene allure of a waterfall or fountain. The soothing sounds of bubbling water creates a natural backyard symphony that relaxes and mesmerizes all who enter. If you were wondering what the finishing touch to your perfect design might be, an Izzy Living Builders custom fountain or waterfall is the answer. We are the Orange County waterfalls and fountains experts.
Whatever your vision for a more refined looking design in your backyard or home, we can accommodate. We can install custom stone or fiberglass rock fountains and bubblers. For a more classic look, we also offer bronze fountains. We install pool and garden waterfalls, to give them both a relaxing feel and a getaway-resort style look. We can even install a wall fountain or free-standing floor fountain in your home. At Izzy Living Builders, we have over 20 years of experience servicing the outdoor space design needs of Orange County homeowners. Our designers are unmatched and will work closely with you to bring your dream of the perfect outdoor space into reality.
A fountain or waterfall can also create a theme for your outdoor space. Perhaps you would like the conservative mystique of a low fountain over a Japanese inspired rock garden. Or maybe you would prefer the luxurious feel of a Mediterranean style marble-tiled waterfall. You could even add some color and flair for a contemporary look with acrylic fountains. Or perhaps you want to go modern and simplistic with some metal or copper wall fountains. We always use the highest quality materials, and we make sure they are an accurate reflection of the home and the homeowners. That is why we are trusted Orange County waterfalls and fountains contractors.
Our Orange County Waterfalls & Fountains Contractors Provide the Following Services
Garden Fountains
Wall Fountains
Metal Fountains
Indoor Water Fountains
Indoor & Outdoor Waterfalls
Stone & Fiberglass Rocks
Pool Fountains & Waterfalls
Pond Fountains
Rock Fountains
Acrylic Fountains
Floor Fountains
Water Walls
Orange County Waterfalls and Fountains
Articles & Tips
While there is no doubt that the spring and summer months are the prime time for putting on some sunscreen and taking a dip in the pool, there is a little bit more uncertainty among homeowners when i […]
Read More
While LED lighting has generally been a more common feature inside of homes, many homeowners all over the country are quickly coming to find out just how beneficial it can be to use around your home' […]
Read More