Orange County Pool Builder and Landscape Design Company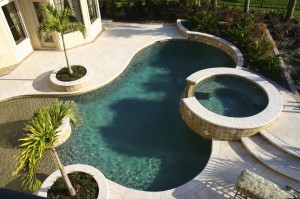 Orange County is arguably one of the most beautiful areas in all of California. For that reason it is standard that Orange County homes have outdoor living spaces. With the gorgeous climate most homeowners try to spend as much time as possible outside. That is why Izzy Living Builders has been the number one choice for pool installer and landscape design company in the Orange County area for over 20 years. We have the experience and our specialists have expertise in all disciplines that involve intelligent and quality outdoor design. So we can offer a fully customizable design project. From custom shaped stone structures to custom shaped swimming pools, custom landscapes and even custom landscape lighting, we can make whatever you envisioned as your dream yard into a reality.
Orange County Swimming Pool Construction
Your perfect yard starts with custom swimming pool construction. There is no better way to escape the heat than with the soothing waters of your own pool. Aside from obvious benefits, a custom swimming pool gives you the opportunity to allow your pool to reflect your personality and the character of your entire home. Whether you'd like a sleek modern look, with hard lines and crisp edges, and perhaps a metal waterfall, or you would prefer a Mediterranean style of marble tile and a stone statue fountain, our designers can recreate your envisioned pool exactly. Our swimming pool design specialists aren't mind readers, they are just experienced. For more than 20 years our specialty has been swimming pool construction, so we pride ourselves on being Orange County's pool experts.
Your custom swimming pool can have every amenity you desire; fountains, waterfalls, colored lights, kiddie ponds, and even a spa. Our installers possess expertise in all disciplines involved in swimming pool construction, from electrical lighting to masonry. Your swimming pool construction couldn't be in better hands than with Izzy Living Builders.
Orange County Landscape Design
Another big element of your beautifully customized outdoor space is landscape design. Your landscape will shape the aesthetics of the entire outdoor area and set the tone for the home environment itself. Stunning landscape design is a must for a magnificent Orange County home. Creating a seamless transition from your yard's natural elements to the modern architecture is the focus of any good landscape design. With the professionals at Izzy Living Builders, your landscape will look the best it ever has.
A four-tiered stair-step waterfall running directly beside a patio dining area could create the perfect atmosphere for entertaining. If you desire something more intimate, our designers could also implement a stone walkway that leads down rows of exotic and colorful plant life. And the kids can have a beautiful place to sit and read in the sun with a sunflower hut. And for a serene place to escape by yourself we can install a rock garden and pond . The possibilities are limitless with competent and professional landscape designers and we are Orange County's best.
Orange County Outdoor Living
Your dream home design doesn't stop at the door. One of the most appealing aspects to living in Orange County is the climate, so outdoor spaces are an important element in local homes. Designing your outdoor space offers you the ability to extend all of the comforts and amenities of your home's indoors to the outdoors. Regardless of whether you want a private getaway or you like to entertain guests, your outdoor space should be inviting and relaxing.
Our designers and installers at Izzy Living Builders have the expertise and experience to completely transform your outdoor space into a comfortable living area for entertaining friends or enjoying family gatherings, or even a private retreat to be enjoyed alone. Whatever your design needs we will work with you and make it a reality. If you want a covered patio, tiled with couches and a coffee table, with a large flat screen mounted in the corner for watching the game, Izzy Living Builders are the professional outdoor spaces contractors to call. Or if you'd like a full kitchen, complete with sink, fridge, tiki bar, cabinets, and a grill, we can install your outdoor kitchen quickly and efficiently. Or maybe you would prefer a small, private deck with a relaxing and romantic spa that snuggly fits just a couple. Anyway you want your outdoor space to look, we will make it happen. Your outdoor living space will be your favorite part of the house after Izzy Living Builders is done.
Services We Provide in Orange County
Zip Codes We Service in Orange County
90623 | 90630 | 90680 | 90740 | 90742 | 90743 | 92610 | 92624 | 92625 | 92629 | 92630 | 92637 | 92655 | 92657 | 92676 | 92679 | 92688 | 92694 | 92861
Reviews & Testimonials on Izzy Living Builders in Orange County, California
There are currently no reviews or testimonials for Orange County, California. Check back soon!
Articles & Tips
While there is no doubt that the spring and summer months are the prime time for putting on some sunscreen and taking a dip in the pool, there is a little bit more uncertainty among homeowners when i […]
Read More
While LED lighting has generally been a more common feature inside of homes, many homeowners all over the country are quickly coming to find out just how beneficial it can be to use around your home' […]
Read More