Santa Ana Pool Builder and Landscape Design Company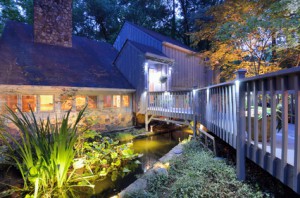 Izzy Living Builders can offer you the enjoyment of a custom pool and landscape design that fit your needs. We are Santa Ana's premier pool installer and landscape design company. We've been helping Santa Ana homeowners since 1992 and are dedicated to designing and creating an outdoor space you will fall in love with. We offer exemplary customer service and pay rigorous attention to detail. Our designers are also well trained in a variety of different disciplines. This allows us to offer Santa Ana homeowners the ability to customize every aspect of their outdoor space design. We can start with a custom swimming pool, then move to a stunning landscape that fits every detail of your vision, and finally a fully customized outdoor living space. We employ electrical, landscape and stone masonry specialists, as well as many other talented designers and installers. Let the Santa Ana outdoor living spaces professionals transform your outdoor living area. Call Izzy Living Builders today.
Santa Ana Swimming Pool Construction
The perfect Santa Ana yard starts with a custom swimming pool. There is no better way to escape the summer heat than with the cool waters of your own pool. Beyond the obvious benefits, a custom swimming pool construction gives you the opportunity to allow your back yard to reflect your personality and the character of your home. Whether you want a sleek modern look that utilizes simple materials like stone and copper, or you would prefer a Mediterranean inspired marble tile and a bronze fountain, our designers can recreate your imagined dream pool. It isn't because our swimming pool design specialists are mind readers, it's just because they are experienced. For more than 20 years our specialty has been swimming pool construction, so we pride ourselves on being pool experts Santa Ana homeowners can count on.There are several add-ons and extras that make a swimming pool fantastic; fountains, waterfalls, colored lights, kiddie ponds, and even a spa. Our installers possess expertise in all disciplines involved in swimming pool construction, so your swimming pool is entirely customizable. Entrust your future swimming pool to the most capable hands around; Izzy Living Builders.
Santa Ana Landscape Design
A Santa Ana home is just not complete without a beautifully designed landscape. Your landscape is the representation of your home. The front yard is the first thing guests will see, and the back yard determines the tone of all of your outdoor living space. That is why it is important to allow qualified professionals to design for you a landscape that reflects the personality of your home. Izzy Living Builders has been designing outdoor areas since 1992. Our landscape design specialists are knowledgeable and experienced enough to create a seamless transition between your home and your outdoor spaces. With Izzy Living Builders' landscape designs, your entire property is transformed.We work hard to bring into reality your dream of the perfect landscape. If you desire, you can enjoy wild and exotic plants for color and fragrance, or enjoy relaxing next to a babbling brook that runs through your back yard. Our professional landscape designers can accommodate any need. For example we can install a sunflower house just for the children, and also install a several-tiered water fall running into a stream that feeds a serene pond that rests directly below your patio steps. Izzy Living Builders can make whatever you desire a reality in your outdoor spaces.
Santa Ana Outdoor Living
Izzy Living Builders are the number one outdoor living spaces expert in the San Clemente area bar none. Your entire home will be transformed after our outdoor living spaces design. We work hard to create a design that mirrors the image of your dream home. We also work hard to create an outdoor space you fall in love with.
At Izzy Living Builders our team of technicians specialize in a number different disciplines. From stone masonry to electrical systems, every aspect of your design is totally customizable. And if you are having trouble envision the perfect outdoor space, our designers will provide you with a number of different options and work with you until you've created an outdoor design that makes you never want to go back inside.We can do a naturalistic look. We'll simply create for you a cozy corner of your landscape with a couch nestled in between a custom fireplace and a small pond. If you have a flare for Asian influenced design, we'll just install a tranquil patio featuring a waterfall spilling out over a rock garden. And if you love to entertain, we can build a barbeque deck with a full functional outdoor kitchen. Whatever your needs, Izzy Living Builders are your premier choice for outdoor living space design.
Services We Provide in Santa Ana
Zip Codes We Service in Santa Ana
92701 | 92703 | 92704 | 92705 | 92706 | 92707
Reviews & Testimonials on Izzy Living Builders in Santa Ana, California
There are currently no reviews or testimonials for Santa Ana, California. Check back soon!
Articles & Tips
While there is no doubt that the spring and summer months are the prime time for putting on some sunscreen and taking a dip in the pool, there is a little bit more uncertainty among homeowners when i […]
Read More
While LED lighting has generally been a more common feature inside of homes, many homeowners all over the country are quickly coming to find out just how beneficial it can be to use around your home' […]
Read More