Orange County Landscape Design & Installation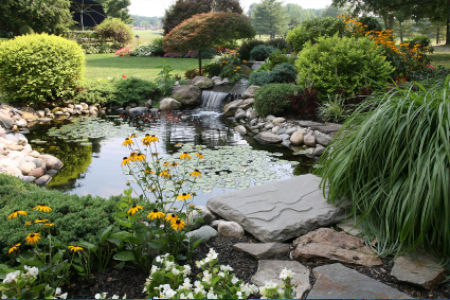 Your landscape is the face of your home. The front yard determines your home's curb appeal, and a beautiful landscape will enhance that by adding color and texture. Your backyard is your personal space to either entertain or enjoy as a private oasis. A professionally designed and installed landscape transforms your backyard with stone pathways, water gardens, custom shaped rocks, or whatever will create the atmosphere and mood most representative of your personality. For any home, landscaping is a major enhancement in value, comfort and aesthetics. No one understands that better than us, which is why we are the premier choice for Orange County landscape design and installation.
At Izzy Living Builders, we have over 20 years of designing and installing custom landscapes for Orange County homes. We have the skill and experience to transform the look of your entire house. It is amazing what a custom designed landscape will do to the aesthetics of your home's exterior.
A pristine and manicured front yard gives it a clean and fresh look. The right combination of foliage and shrubbery can add voluminous and geometric qualities which serve as an extension of the house itself. Stone pathways offer a vintage yet sophisticated element to the overall ambiance.
In the backyard, you have room to play around with structures. Want a serene, natural getaway? Add a rock garden or a pond. Maybe you want something more opulent. Try some exotic and colorful plants surrounding a cascading waterfall. Perhaps you'd like a sunflower house for the kids. Whatever your needs, our designers will work closely with you to draft a plan that fits your character and that of your home. Then our highly trained technicians will install your custom design quickly with minimal inconvenience and construction time. Izzy Living Builders is the right choice for your Orange County landscape design and installation.
Our Orange County Landscape Design & Installation Contractors Provide the Following Services
Custom Landscape Design
Modern Designs
Landscape Installations
Tropical Landscape Design
Orange County Landscape Design and Installation
Articles & Tips
While there is no doubt that the spring and summer months are the prime time for putting on some sunscreen and taking a dip in the pool, there is a little bit more uncertainty among homeowners when i […]
Read More
While LED lighting has generally been a more common feature inside of homes, many homeowners all over the country are quickly coming to find out just how beneficial it can be to use around your home' […]
Read More