Orange Pool Builder and Landscape Design Company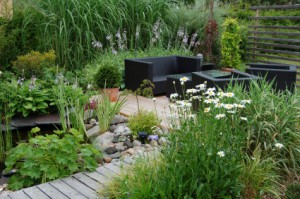 Given that hot weather is common in Orange, it is commonplace for outdoor design elements like swimming pools and custom landscapes to be found in most homes. As a member of the community since 1992, Izzy Living Builders is proud to have helped make that a reality. With over 20 years experience providing excellent service for Orange homeowners, we are the outdoor design experts. We've transformed many Orange yards into breathtaking landscapes that immediately calms and elevates the mood of all who see it. Call Izzy Living Builders and escape the summer sun into the soothing waters of a custom swimming pool surrounded by exotic flowers in your custom designed outdoor living space. Let us put the finishing touch on your dream home for you by adding custom outdoor design. Izzy Living Builders are the number one choice for Orange, CA pool installer and landscape design company.
Orange Swimming Pool Construction
One of the biggest elements of a custom outdoor design in Orange is a swimming pool. With California's hot summer days, the best way to cool down is in the cool waters of your own custom built pool. At Izzy Living Builders we offer you tons of custom options to create a swimming pool that is the image of perfection. You can choose from a geometric pool shape or work with our designers to customize a unique free-form shape. You can also add a relaxing spa for you and your spouse, or a kiddie pond for the children, or even both. There is also an option to add ambiance with waterfalls and custom rock formations, or you can go with a more entertainment centered theme and build a diving board or basketball goal. We accommodate whatever best suits the needs of your family.At Izzy Living Builders we strive to get the job done fast. We work to minimize the inconvenience of construction time and so you get to enjoy your new swimming pool quickly. That is why we take extra time in consultation and planning to focus on all of the details. We also pride ourselves in the use of high quality materials, so you can count on them being durable. We don't want you worrying about expensive repairs and maintenance any time soon with Izzy Living Builders.
Orange Landscape Design
An Orange, CA residence is simply not complete without a magnificently designed landscape. Your landscape is the visage of your home. The front yard is the first thing guests will see, and the back yard determines the character of all of your outdoor living areas. So it is important to allow qualified professionals to design and shape a landscape that reflects the personality of your home. Izzy Living Builders has been designing outdoor areas for over two decades. Our landscape design specialists are experienced and have the know-how to create a seamless transition between your home and your yard. With Izzy Living Builders' landscape designs, your entire property gains an ambiance.We work hard to bring into reality your exact vision of the perfect landscape. You can enjoy wild and exotic flowers for color and fragrance, or relax next to a tranquil babbling brook. Our professional landscape designers can accommodate any need. From simple tasks like installing a sunflower hut for the children, to more complex projects, like a several-tiered water fall running into a stream that feeds a serene pond that sits under your patio. Izzy Living Builders can make it happen.
Orange Outdoor Living
Orange offers a level of outdoor living that is the envy of most of the rest of the country. The beautiful California sun makes having an outdoor living space standard in an Orange home. Let Izzy Living Builders make you as comfortable as possible in your outdoor space. We've been designing outdoor spaces since 1992 and we have technicians that specialize in every discipline related to outdoor design. We are focused and committed to extending all of the comforts and amenities of your indoor spaces to your yard outside.Imagine a covered patio adorned with couches, end tables and a big screen tv mounted on a wall. Or how about a full kitchen with a sink, cabinetry, cold refrigerator, right next to the grill? Or you may prefer a more intimate setting with a circle of comfortable chairs positioned next to a custom outdoor fireplace. Whatever you dream of we can make it reality. Would you like to go with a theme for your outdoor space? How about a zen garden with a custom rock for meditating on? Or maybe you would like the modern look of flat rock beds and babbling fountains running off into a sleek metal reservoir. We could even put a recliner directly in the middle of a cluster of trees. Your yard will never be the same after Izzy Living Builders transforms it into the best part of your home.
Services We Provide in Orange
Zip Codes We Service in Orange
92862 | 92865 | 92866 | 92867 | 92868 | 92869
Reviews & Testimonials on Izzy Living Builders in Orange, California
There are currently no reviews or testimonials for Orange, California. Check back soon!
Articles & Tips
While there is no doubt that the spring and summer months are the prime time for putting on some sunscreen and taking a dip in the pool, there is a little bit more uncertainty among homeowners when i […]
Read More
While LED lighting has generally been a more common feature inside of homes, many homeowners all over the country are quickly coming to find out just how beneficial it can be to use around your home' […]
Read More