Masonry Ideas For Outdoor Living Spaces In Orange County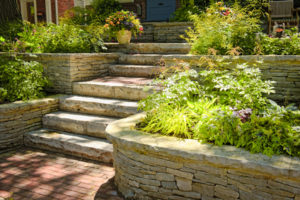 When it comes to the outside of your home, you want everything to look amazing. This includes your backyard. The landscaping of your backyard can be dramatically improved by a masonry contractor. A stone patio, outdoor kitchen, retaining walls, or flower bed border will make your yard look fantastic. And, an outdoor living space will also be a functional place for you and your family to use during the evenings.
Izzy Living Builders is a professional Orange County Pool Builder & Landscape Design company that provides masonry services. Our masonry experts have the ability to install any type of structure to enhance your landscape.
A custom landscape design will add a lot of value to your property and provide you with years of enjoyment. But first, you'll want to make decisions about what type of masonry work you want to have done. Drawing upon our experience, we can give you some ideas that may help you make decisions.
Stone Patios & Outdoor Living Spaces
One of the most popular types of masonry work we do is to construct stone patios and outdoor living spaces in Orange County. Stone is a great material to use for building a patio because of the natural look it brings to your landscape. Natural stone is great near a garden setting because of the natural effect it has. Some of the most common types of stone used for patio building includes slate, quartzite, bluestone and limestone.
Concrete Pavers
As a professional Orange County patio construction company, we also use concrete to create solid built patios. Paver patios are the most popular type because they are easy to repair and look great. They come in different styles, so you have options. Concrete is a solid material that is extremely durable. When our professionals build a patio out of pavers, you can guarantee that it will look great and be built to last.
Tile
Tile adds a unique style to a patio. Terracotta, ceramic or porcelain tiles can be used to bring the interior style outdoors. It's really wonderful to be able to have a seamless look. We can weatherproof these materials to make them more durable for the outdoors. When you are building an outdoor grilling area or a patio around your pool, tile is a great option.
Brick
Izzy Living Builders also has also constructed many brick patios in Orange County. Brick looks great with any type of siding and it is a versatile building material because it comes in such a variety of colors and styles. We use brick to construct patios and outdoor living spaces that last, and we customize it meet the style of the home.
Izzy Living Builders has been providing masonry and construction services since 1992. If you need stonework or any other type of masonry in Orange County, will work directly with you to create a customized design that will make your home look amazing.
Articles & Tips
While there is no doubt that the spring and summer months are the prime time for putting on some sunscreen and taking a dip in the pool, there is a little bit more uncertainty among homeowners when i […]
Read More
While LED lighting has generally been a more common feature inside of homes, many homeowners all over the country are quickly coming to find out just how beneficial it can be to use around your home' […]
Read More