Showcasing Your Orange County Home in the Best Light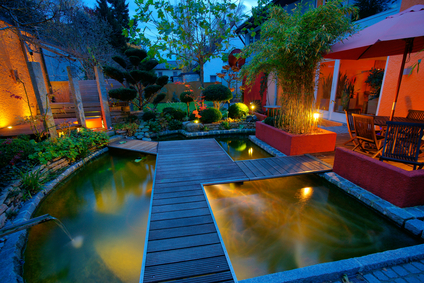 When taking the time to design a visually stunning Orange County home, you don't want it to go unnoticed in the dark. The right amount of landscape lighting can enhance the beauty of your entire home. Accentuate your home's exterior by having downlights installed at the edge of your roof to cast a beautiful glow in your home façade and highlight the architectural design.
These types of architectural lighting effects not only contribute to home security after dark but also bathe your home in a welcoming ambiance.
The best way to determine which areas of your home could use lighting accents is by walking through your Orange County property at night to see what aspects you would like to draw attention to. Also, elements of your landscape design can look magnificent during the day and breath-taking at night with the right lighting. Take a flashlight with you to help visualize whether up or down lighting would be most effective in certain areas.
When you have determined which areas you would like to apply landscape lighting to, it is best to schedule a consultation with a professional Orange County landscape lighting contractor. A landscape lighting design specialist can go over the myriad options for various lighting fixtures, bulb types and placement. Together you can determine if you would like the soft elegance of low-voltage LED's lighting up your stone pathways or if you want to hang lanterns in your garden.
An Orange County landscape lighting profesional can also help you with placement. The keenly trained eye of a designer can show you positioning that you may not have realized will create the most visually aesthetic effect for your landscaping.
When you are ready to treat your home to the beauty and security of landscape lighting, call your local Orange County professionals for a consultation.
Articles & Tips
While there is no doubt that the spring and summer months are the prime time for putting on some sunscreen and taking a dip in the pool, there is a little bit more uncertainty among homeowners when i […]
Read More
While LED lighting has generally been a more common feature inside of homes, many homeowners all over the country are quickly coming to find out just how beneficial it can be to use around your home' […]
Read More