Izzy Living Builders – Putting Fun In Orange County Landscape Design, One Home At A Time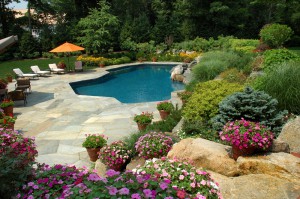 When you have a gorgeous home in Orange County, you want nothing but the best landscape design. Your design plan needs to have everything in it you want, plus a few 'extras'. Your outdoor space needs to be warm and inviting, charming and elegant, sophisticated, yet fun. At Izzy Living Builders, we're the team you need for all the above.
The thing a lot of homeowners forget when planning out a new landscape design is FUN. Every home needs to have the appropriate level of fun in it, which is extremely beneficial to our health.
Think about it, even if you don't have children still at home, there's more than likely a visitor or two from time to time, or even visiting grandchildren from out of state that would really like something to do while staying at your home. Whether it's a few hours or a few days, there's plenty we can do to add a little fun for ages 11 and below.
For instance, most children (both boys and girls) love to play in some kind of playhouse. A playhouse is easy for us to construct and really quite affordable. Your playhouse may include extra's like a slide or attached jungle gym, but even if not it will be a great place for the kids to hang out and do kid things.
Grown Ups Need Fun Too!
Your landscape design should include a little space for you to have grown up fun too. That's what hardscapes are all about with outdoor living spaces. The outdoor living space can be as elaborate or simple as you like, but be sure to put some fun things in your plans like lounge areas big enough for four, gazebo's for enjoying the shade, or a pool for warm weather fun.
Why not add a few great bench swings while you're at it? You're sure to have areas of your landscape that no one really uses because there's no place to hang out there. Adding a bench swing or even stationary bench would be really fun for sitting and relaxing in those underused areas of your landscape.
Landscape Lighting Can Make Outdoor Activities Even Better
No matter what options for fun you choose, you can design elements in fit for all ages. Party and landscape lighting with low energy using LED lights is a lot of fun for everyone and doesn't have to come in colors. Clear bulbs are also available, giving you an upscale look you'll love. But if you really want to wow the guests, install some party lights that change colors with a remote control or automated settings!
When it comes to designing a great landscape that's both functional, beautiful, AND fun, come to Izzy Living Builders! You'll have great options in design that completely meet your needs as well as giving you a little extra to go on!
Articles & Tips
While there is no doubt that the spring and summer months are the prime time for putting on some sunscreen and taking a dip in the pool, there is a little bit more uncertainty among homeowners when i […]
Read More
While LED lighting has generally been a more common feature inside of homes, many homeowners all over the country are quickly coming to find out just how beneficial it can be to use around your home' […]
Read More